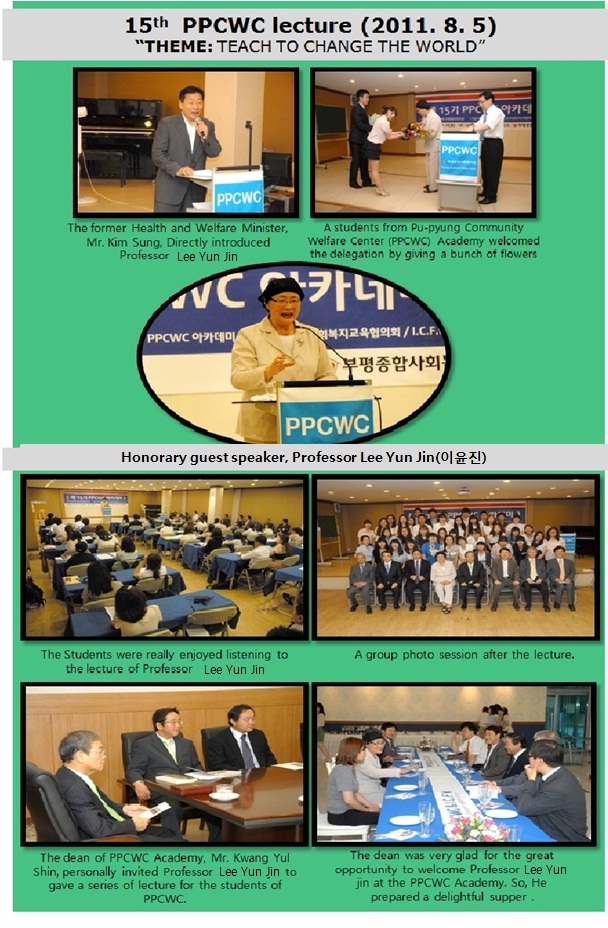 15
th
Leadership Lecture
Program
August

05¡¯ 2011 , PPCWC
Academy
Honorary
guest speaker, Professor

Lee
Yun-jin
(ÀÌ
À±Áø
)
The dean of PPCWC, Mr.
Kwang
Yul
Shin invited Professor Mrs.Lee
Yun
Jin, sister of President Lee
Myung
Bak
the President of the Republic of South Korea.
Professor Lee

is a missionary worker in China for over 15years. She serve the country in a humanitarian

way. She studied in
Kyeongin
University and took up master course in other University. She also have social welfare license.
According to her, on the beginning of there teenage life, they are very poor. But through the proper guidance of her mother and the determination to study hard. They (She and her brother President Lee
Myung
Bak
) became a very successful today.
They both admire there mother because she gave an inspiration to there family.
Prof. Lee said ¡° I remember when we were young, our mother always teaches us on how pray, to love one another, to give importance to our education and most of all is to have faith in God. ¡°