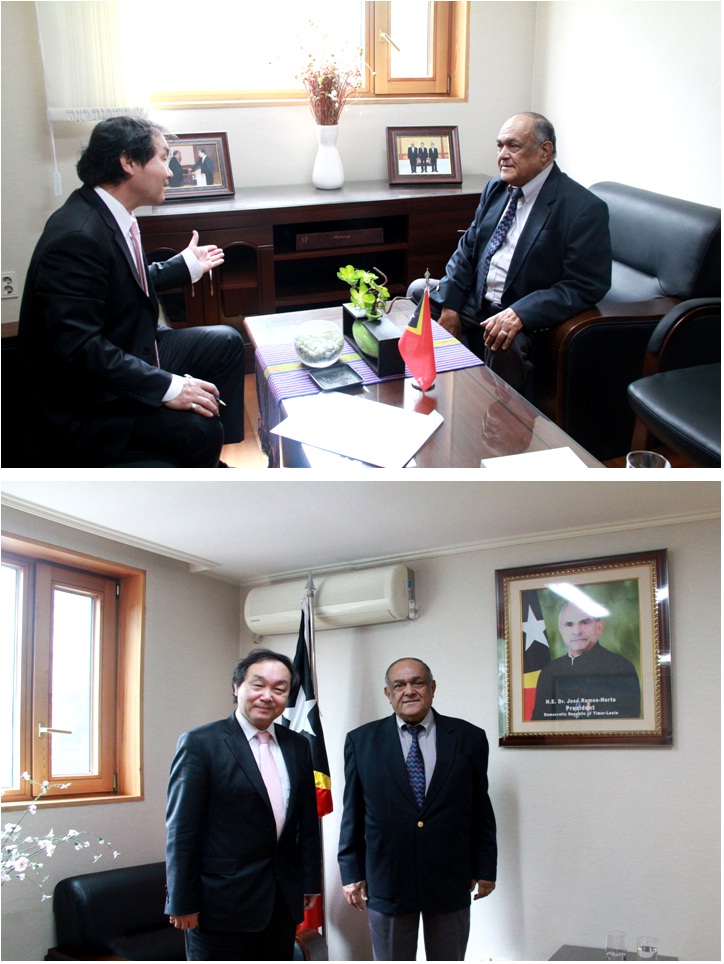 I-MSN INTERVIEW TO THE AMBASSADOR OF EAST TIMOR.
H.E Joao Viegas CARRASCALAO
The Ambassador arrived in Korea on August '2010.
He admires the Korean people and the country. He wants to see East Timor the same way like Korea.
"East Timor has the privilege of the courtesy of the Koreans". Because Koreans helps us in building constructions."He said
Timorese people in Korea were less than 500, About 481 Timorese workers are presently living in Korea. The Ambassador said"
The workers
said they are well treated
and happily learning Korean languages
But
it is very hard to work when winter
time
.
There are only 17 Timorese students in Korea.
As of the moment they don't have significant no of Koreans living in East Timor, but
still
there are manyKorean investors in East Timor
d
oing infr
a
structions and business.
Only one Timore
se
lady
married to Korean. According to her, she is happily living with his Korean husband.
The Ambassador said.
"We export coffee in Korea, the only problem that we are have is the very small production. As I've said before we only have a small area" But remember CAFÉ t
-AmO
is from
E
ast Timor."
Ambassador's hopes
in the future
are; T
o increase the no. of our students. Not only
the
university students
but also
the
middle school students
; the
welfare of
the
workers
who
is very important.

Mak
ing
sure that
the
workers have a good environment
;
to wish them to
continue
learn and develop about Korean
language and tradition
, so that whenever they will go back to East Timor they have a reserve knowledge.
Added . He wants to encourage
the young Koreans to evaluate their selves and try to have knowledge about East Timor
" The Ambassador would like to invite the Korean young couple to keep their honeymoon in East Timor and keep there holidays in East Timor" The Marine life, the sea is very reach in fishes. Also the country side is very expectacular and very mountaneous.
Like in Korea foreigners can sleep outdoor without harm. "I can say east Timor is the last paradise on Earth" He said.
"I see that Korean is very open, especially to their guests.

To understands Korean culture that is something very appealing. East Timor can also be like this, we need more contacts.