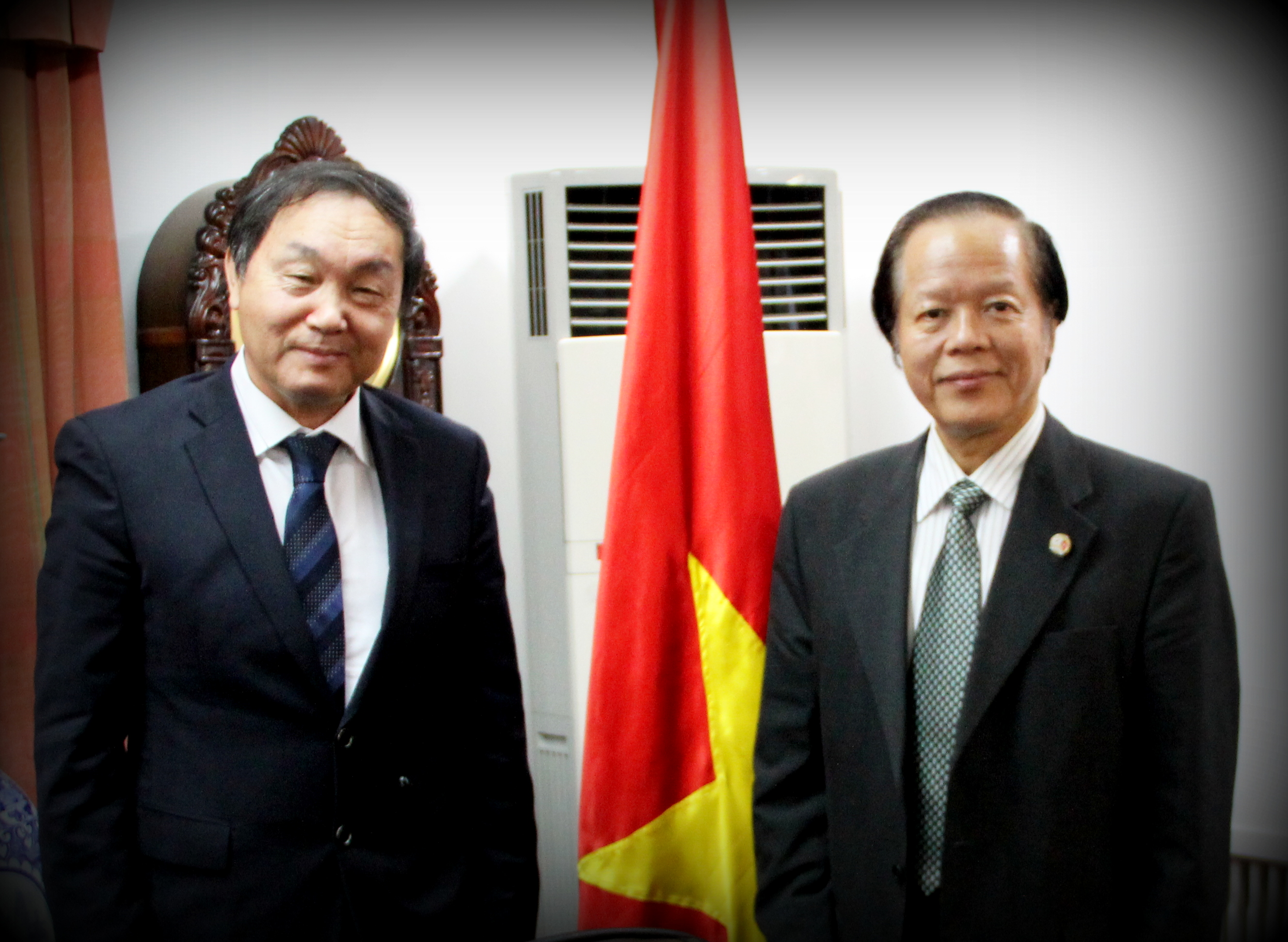 i-msn
(International Multicultural Society Newspaper)
Interview to H.E Tran
Trong
Toan
, Ambassador of Vietnam, Seoul
Ambassador first visit in Korea was on 2005 to attend a series of APEC meetings in Seoul,
Jeju
-do and
Busan
.
"My first impression is a Dynamic Korea with the "Han River Miracle" Wherever I go, I enjoyed the beautiful sceneries of nature and the hospitality of the Korean people. But what I struck me most is how Korea could have successfully emerged as an industrialized country just in the span of 3 decades. Korea has become an economic, scientific and technological as well as in sports. Where as in this recent '2012 Olympic game in England got its very high ranking" He said.
According to him, He feels very much at home. His living and working condition in Korea are very comfortable and joyful. He wrote several poems about Korea, such as
Jeju
-do, Yellow autumn in Seoul,
Andong
Talchum
Festival, Non
gae
temple,
Daeboreum
Festival and a lot more.
As Vietnam's is the 3rd largest labor market since May 2004. Korea has provided jobs for over 68,000 Vietnamese workers at present.
There are now 5,000 Vietnamese students studying in Korea. Over 500,000 Koreans visiting Vietnam each year.(561,000 in 2011).
While 200,000 Vietnamese tourists traveling to Korea. The large Vietnamese community of 123,000 people in Korea. At present, Korean population in Vietnam has increased to over 130,000.
People to people relationship has also dynamically developed. At the moment, over 30 provinces and cities of Vietnam and Korea have sister relations. Around 50,000 Vietnamese women married to Koreans.
The government helps them to have stable and happy families. There are now over 73% of Korean-Vietnamese families have a stable, comfortable and happy life. Multicultural children have taking care in terms of health and education.
The Korean-Vietnamese families residing in both countries are important bridges for mutual awareness, understanding and trust. They both contribute their bilateral economic, social, cultural and tourism cooperation.
Currently, Vietnamese have established a number of organizations in Korea, such as the Association of Vietnamese Communities in Korea on December 22, 2010 and the Vietnamese student Association in Korea (VSAK) in 2007.
"Ambassador was very much thankful about the policies of Korean Government regarding Migrants workers and Multicultural Families such as, The grand plan (April 2006), Multicultural families Act 2008, First Basic plan for Immigration Policy 2008. Are highly welcomed and appreciated by foreign community in Korea. Including the 200 Centers supporting Multicultural Families in Korea.
For over 4 thousand years of history, Vietnam is always fighting against two devastating enemies, the Natural calamities and foreign aggression. Vietnam has no discrimination.
The Ambassador would love to share some suggestions on how to promote Multicultural Society. He said "In a Multicultural Society we must properly sort out the possible conflict between full integration of foreign immigrants in the local society. By helping foreign immigrants to preserve their own national identity, tradition, values while integrating them in the Korean society and ensuring Korean-conformity as Korean culture is overwhelming factor in the society"
We may need to consider Multiculturalism as a form of inter-
culturalism
. By doing so, we can help the foreign immigrants conserve the identity and culture as their pride and source of self-confident. And by this way we can successfully build a society of "Unity in Diversity".
Ambassador final message "I hope that the ratio of happy Korean-Vietnamese families be increased as much as possible. Also, I wish that Vietnamese wives could be provided with suitable jobs. If they will be given this kind of opportunity, they can contribute to the family and to the development of the society. It is also means of creating of basic gender equality between men and women, husband and wives. In addition, I think it is also necessary to taking care of Multicultural children particularly on the matter of health and education. Because in the near future they will grow up as a good citizen and they can contribute in the society. Also, those children are and will be the bridges of friendship and cooperation of both nations.
In closure, I would like to thank the Korean government for all the support to Vietnamese in Korea. I really appreciate the fact that the government and the people of Korea are actively implementing many humanitarian policies to nurture multicultural society."
Interviewed by K.Y Shin, President of ICFW &
i
-msn newspaper