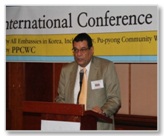 Good evening President of ICFW,
Excellencies, Distinguished Guests.
Thank you very much for this kind invitation. I've been living in Korea for 3 years. Multiculturalism is not easy thing, there are many things to think about it. I became in Venezuela which is a country that has Multiculturalism. From the beginning of our history we experience this kind of things.
The good thing in this country is even if other organization is not been governmental. But there is still effort. They try to get integrated to the society, culture, and to the people. The effort has been great.
The changes are good. I guest Koreans are looking and working hard for that, even the word "
Pali-pali
" to adopt by the foreigners.
My experiences being the Ambassador of Venezuela will never been in same with Vietnam and Philippines. From now on I am available to help you in your noble. My embassy is open and available anytime. Just give me a call. Thank you very much.