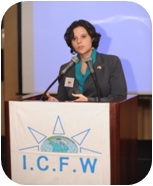 Good evening Mr. president of icfw and all of you here,
Im

Luz Maria Escarra Gil, First Secretary of Venezuela
We don't have many people here.

We only have 60 people.
I think language barrier is important in Korea, specially for students here.
I think KOICA is not known by other countries.
As a guest, majority of us don't want to feel like a guest but part of Society.
First Secretary of Venezuela