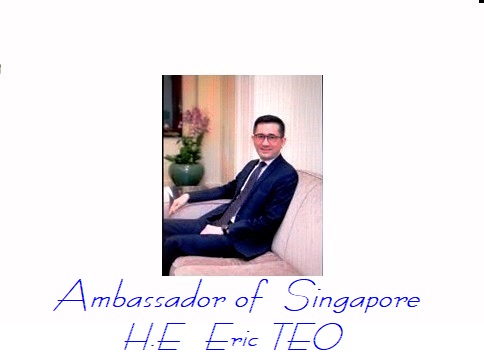 icfw 신광열회장은 지난 9월24일 오전 11시, 성북동 싱가포를 대사관 관저를 방문, 에릭 테오 싱가포르 대사를 (Ambassador H..E Eric Teo) 만났다..
대사는 활기 있는 모습으로 반기는 모습에 매우 기분 좋은 상쾌한 아침이었다고. 넓은 리빙 룸에 많은 소파들이 배치되어 있었는데, 대사는 웃으면서 "안고 싶은데 않으세요!?" 자리를 안내하며 편안하게 이야기를 나눴다고 한다.
신회장은 먼저 방문 취지와 그동안의 icfw 회의 및 행사의 견해와, 제1회 icfw 회의 2007년부터 전 싱가포르 대사 및 총영사 등 지속적으로 참석했음에 감사의 인사를 드렸다고 한다.
대사는 얼마 전 대구, 경기도를 방문했었는데 대사 부인의 고향이 경기도라고 말하며 우리나라의 대한 사랑과 관심 그리고 깊은 애정을 갖고 있는 듯 보였다고 한다. 어디서 부인을 처음만나셨나요? 물음에 처음 만난 곳은 싱가포르라고 대답하셨다고 한다.
대화중에서 대사는 처음에 아무것도 없었던 맨손에 싱가포르가 오늘의 GDP 6만3.79 달라(Gross Domestic Product in 2019) 세계 7위로 성장, 그 이후에 기성세대와 현 2030 젊은 시대의 삶의 가치관과 문화충돌의 의견 차이점은 싱가포르뿐만 아니라 전 아시아 지역의 같은 입장을 간략하게 설명하는 대사의 모습에서 이분은 미래의 넒은 광장의 아세아 문제를 풀어나갈 a great plan을 알고 있는 듯 미래방향의 탁월한 전략가처럼 느낌을 받았다고 신회장은 말한다.
구체적으로 미래 아시아 지역사회가 나아가야 할 방향에 대하여,. 주요 기관 그리고 각 대학에서 초청강의로 이분에 의견: 지식. 경험 그리고 충고의 관하여 공부하는 자세로 들어 보는 것 우리 교육사회의 큰 도움이 될 것이라는 생각을, 신회장은 말한다.
에릭 테오 대사는 싱가포르 국랍대학과 미국 존 홉킨스 대학을 졸업하고, 일본 도쿄, 대만 타이페이에서 싱가포르 외교관으로서 임무 수행, 2019년 8월주한 싱가포르 대사로 취임했다 그리고 현재 주한 필리핀 캄보디아 방글라데시 인도네시아 베트남 네팔 라오스 등 아세아 16개국 대표 대사이다.
앞으로 우리나라의 많은 도움이 될 수 있는 탁월한 주한 최고의 대사들 중 한 명이라고 신 회장은 말한다.
On Setember 24th, at 11AM, icfw chairman Mr. Kwang Yul Shin visited the residence of the Singapore Embassy in Seongbuk-Don Seoul and met the Ambassador H.E. Eric TEO
It was a very pleasant and refreshing morning with the ambassadors welcoming with a lively appearance. There were many sofas arranged in the spacious living room, but the ambassador smiles and says that "wherever you want sit down,. Please do it. and they talked each other comfortably.
chairman Mr. Shin first talked about the purpose of his visit and his views of the icfw meetings and events in the past. from 2007 Also, He thanked the former ambassador and consul general etc of Singapore for continuing attendance
The ambassador recently visited Daegu and Gyeonggi-do, saying that the ambassador's wife's hometown is Gyeonggi-do He seemed to have a deep interest and affection with people in Korea. "where did you first meet your wife? He said that first time he met the question was Singapore.
in the conversation, the ambassador said that at first there was nothing, but Singapore has today's GDP of $60,379, growing to the 7th in the world in 2019. Since then the difference between the values of life and cultural conflict between older generation and the current 2030 younger age is not only in Singapore but also, in the form of an ambassador briefly explaining the same position in Asia,
Chairman Shin says he felt like an excellent strategist for the future as if the ambassador knew a great plan to solve the Asian problem in large square in the future.
specifically, to listen to the attitude of studying the opinions, knowledge, experience, and advice of ambassador's by invitation from major institutions and universities about the future of the Asian community. It is great help to our educational society.. Chairman Shin says he thinks it will be.
Ambassador H..E Eric Teo graduated from National University of Singapore and Jhon Hopkins University in USA and served as a Singaporean diplomat in Tokyo, Japan and Taiwan Taipei and in July 2018, he took office as Singaporean Ambassador to korea. Currently, he is also the representative ambassadors of 16 Asian countries including the philippine,Cambodia,Bangladesh,Indonesia and vietnam.
Shin says he is the one of the best ambassadors to Korea who can be of great help to our country Korea.
icfw 24th September 2020